Our values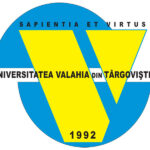 The values of the university are intrinsically tied to its mission of study, research, social, economic, and cultural participation in the region in which it operates, as well as at the European and global levels. They are also inspired by the history and customs of the cities in which it is located, namely Targoviste, Wallachia's old capital, and Alexandria.
The institution's motto is "Sapientia et Virtus," or "Wisdom and Virtue," and it embodies the values that the university community holds dear. In Latin etymology, wisdom is described as science, skillful practice, insight, judgment, and memory, and it represents the university's broad spectrum of knowledge, research, comprehension, and heritage-based activities. The legacy of the Latin word virtus, on the other hand, is best reflected in the term "virtute" in Romanian, a neo-Latin language, which means "a dominant trait of one's own character that makes the human individual better, morally, intellectually, or in a specific type of activity, as well as moral integrity."
Our university's ideals are also totally aligned with the shared values and principles that govern the European Higher Education Area, such as:
educational and research excellence and sustainability;
freedom of thought and expression;
innovation and dynamism in education, research and artistic creation;
equity and equality;
merit and professionalism;
honesty and fairness;
respect, tolerance and non-discrimination;
transparency and accountability;
multilingualism, diversity and multiculturalism;
support and integration.
Our Staff